Everyone wants that perfect and dream-like wedding. With the help of Sheraton Sharjah Beach Resort, you can now have your own fairytale wedding without any hassles. The resort is situated on a gorgeous beach in Sharjah and has an ideal setting for a stunning wedding.
Sheraton Sharjah Beach Resort has two grand ballrooms which are in Arabian style. They are designed to host weddings for about 700 people at a time. You will get private entrances, valet parking facilities, pre-function space, foyers and also dedicated bride plus groom dressing rooms. This private space is great for candid photographs and for all the bride's or groom's guests to relax.
You can leave it to our staff members to handle everything at your wedding as we have experienced wedding planners too along with excellent chefs who will take good care of the wedding food. Did we mention that we have several premium packages like bronze, silver, gold, and diamond for marriages in the resort? Well, these are specialized packages with countless benefits.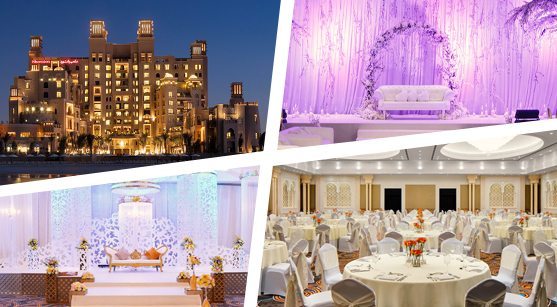 What else is in store?
– You can enjoy up to 20% discount for all UAE residents on any wedding package that you pick from our list. Whether it is the bronze one or the diamond one, you get a good enough discount for your big day.
– We have an ideal setting not just for weddings but also boardrooms for meetings and several other activities. Our wedding halls are decorated with the best ideas, and you will be astonished to see the beauty of it.
– Our chefs and staff will make sure to meet all your food requirements as per your choice and put in all the efforts to prepare an outstanding menu for the guests. You can count on us as Sheraton Sharjah is here to take care of your dream wedding. We add small touches to the wedding to make an impact on all your grand affairs.
– The light setting, décor, tables and quick services will ensure that you are stress-free during the ceremony. We will have people round the clock to look through everything so that you always have someone around to make any notes or changes.
– We have a total of 349 rooms along with suites in the hotel. You can enjoy your time at the lounges, pools, fitness center, private beaches, Shine Spa and much more. We'd suggest the bride and groom come a day before their wedding to rejoice the Spa facilities in our resort.
We aim towards making weddings a unique affair and the best day of your life without fail. You will not be disappointed if you opt for our venue and facilities for your special day. We have had countless weddings and big ceremonies in our resort which gives us an upper hand in making quick preparations in a quality way.
For more details about the Sheraton Sharjah Beach Resort, you can email us on Ayesha.Curmally@sheraton.com or give us a call on + 971 56 545 1175for any events!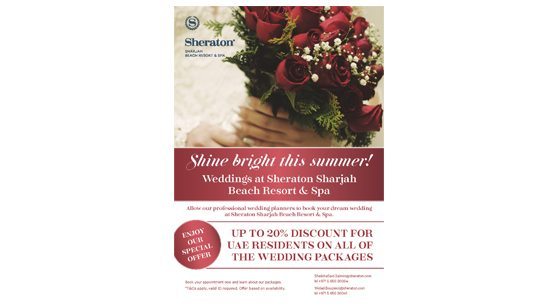 Summary
Article Name
Best Beach wedding venue in Sharjah | Sheraton Sharjah Beach Resort & Spa
Description
Looking to have wedding like fairytale Sheraton Sharjah Beach Resort has the perfect venue to bring your dream wedding come true.
Author
Have your fairytale wedding at the Sheraton Sharjah Beach Resort!
was last modified:
November 18th, 2017
by