It is not just you who needs to be made up on your wedding day and look pretty. The wedding venue is as important as you and your guests. The wedding is a milestone in your life and that moment will be etched in your memory forever. You must make it as beautiful as it can get. To make the event beautiful, you must make the place beautiful.
Wedding halls in Dubai are very lavish, and they need just a little decoration to make them look like a piece of paradise. Here are some wedding décor ideas that can make your wedding the most enchanting one that you have ever seen.
White theme –
The most exotic theme and is always evergreen – the white theme. This has been a norm to decorate the venue in white since many ages. The custom has continued, and today, many youngsters prefer the white theme because it is subtle, simple and elegant. It is not over the top, yet it can be made lavish. So, a white wedding is a dream of many brides. The flowers can be white roses, lilies, and gerberas. White lightings, chandeliers can be hung everywhere to give a regal look to the place. White lace clothes can be used to cover the tables and the windows. White Christmas lights and white ribbons will seal the look. A white theme is surely going to make your venue shine like a star.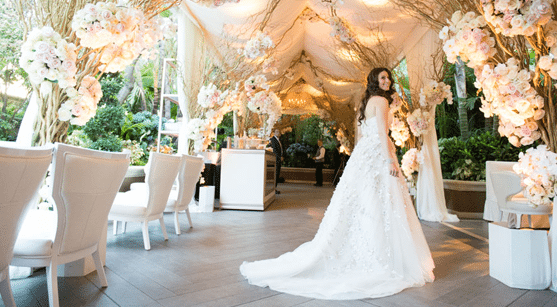 Flower theme –
What is weddings without flowers? Just decorate your venue with beautiful and fresh flowers from all over the world. You can have lilies, roses, lotus, chrysanthemums, orchids, gerberas, tulips and many other varieties of flowers. The wedding venue is just going to look festive and smell sweet. There can be nothing more than flowers to make a plain hall look colourful and fun. Also, it is a way to be eco-friendly and help the farmers who grow flowers. Your wedding celebration will have a purpose in this way.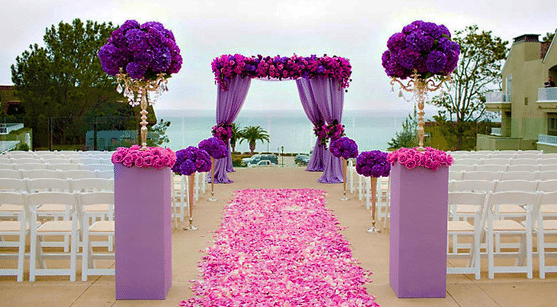 Fairy-tale theme –
Every girl would have dreamt to marry her dream man in a fairy-tale setting. Why not make your dream a reality? You can have a dream themed wedding that will be a talk of the town. Fairy lights, Chinese candles, feathers, water fountains, candles, chandeliers, exotic flowers and other props can create a fairy-tale location inside your wedding venues in Dubai. You can marry your prince charming amidst all these lovely settings.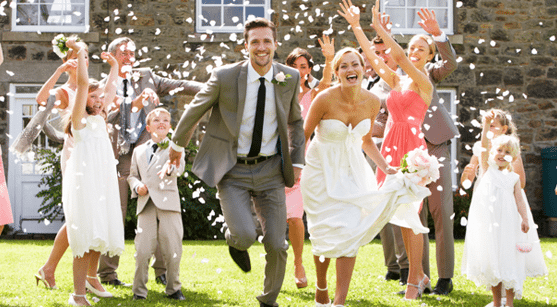 Seasonal wedding –
If you are having a summer wedding, you can decorate the venue according to the feel of the summer. Lots of red, orange and yellow flowers can be used. You can make it an outdoor like event with lots of sun, cold drinks, water fountains and colourful umbrellas. If it is a winter wedding, you can have a snow theme where the concept is white, and you have white fluffy snow like things all over the hall. If it is a spring wedding, just bloomed flowers can be the spotlight of the event. Like this, based on the season, you can have the décor.
These are some ways that you can have the memorable wedding décor.
Summary
Article Name
Best Ideas for Decorating Wedding Hall
Description
Get the best ideas for wedding hall decoration and make the venue as best as your big day of life. Dubai has best of wedding venues contact- 0555041372
Author
How to Decorate Your Wedding Hall?
was last modified:
November 18th, 2017
by