Wonder what's the best outfit to wear for Indian brides? I would say old is gold. Lehenga Choli, the age-old tradition is perfect to amp up your bridal couture. So whether you're a bride living in Dubai, U.S. or anywhere in this world, we've got you covered with some vibrant Indian Bridal Lehenga styles 2016.
While florals and red has always been the dominating factor for Lehenga styles, 2016 is going to be a game changer. From dark shades to rich fabrics and luxurious embellishments, the Indian Bridal Lehenga styles 2016 has a little something in store for everybody everywhere. Let's dive through the top 10 Lehenga styles that are topping the charts.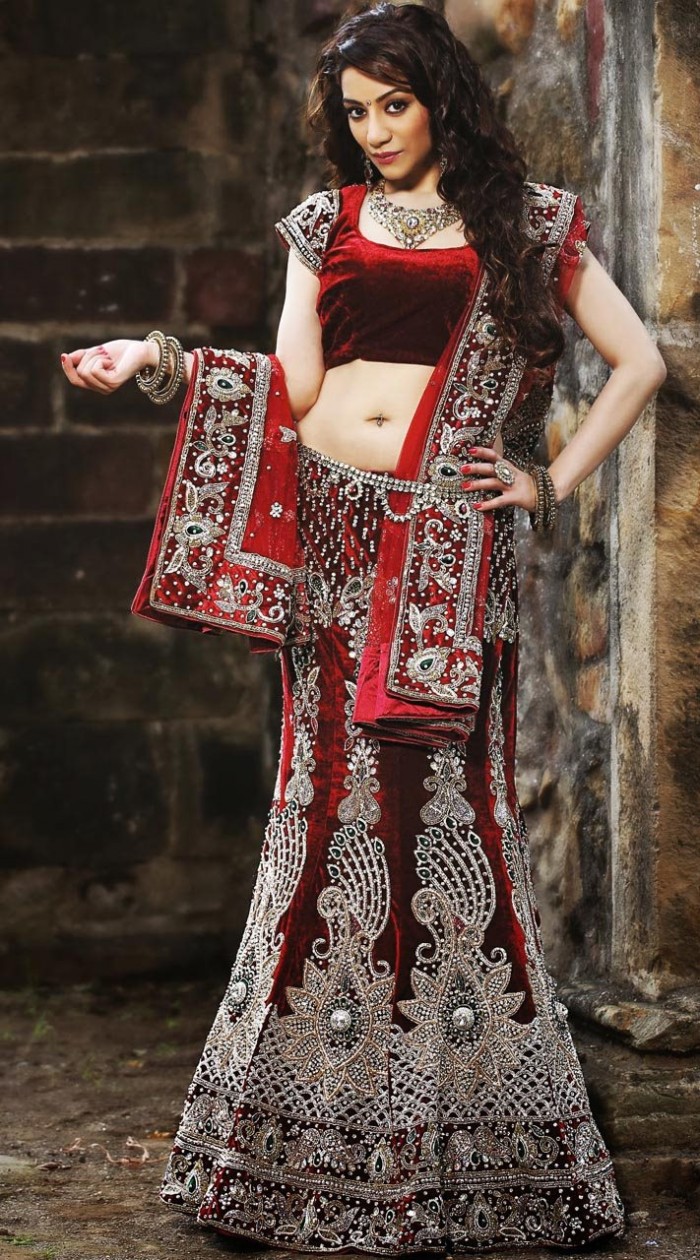 Capes with Lehenga: This style tops the Indian Bridal Lehenga styles 2016. Ideal for a Sangeet or a cocktail function, capes coupled with Lehengas are quite a hit. In addition, the combination of the skirt with cape is a perfect blend of ethnic and contemporary style.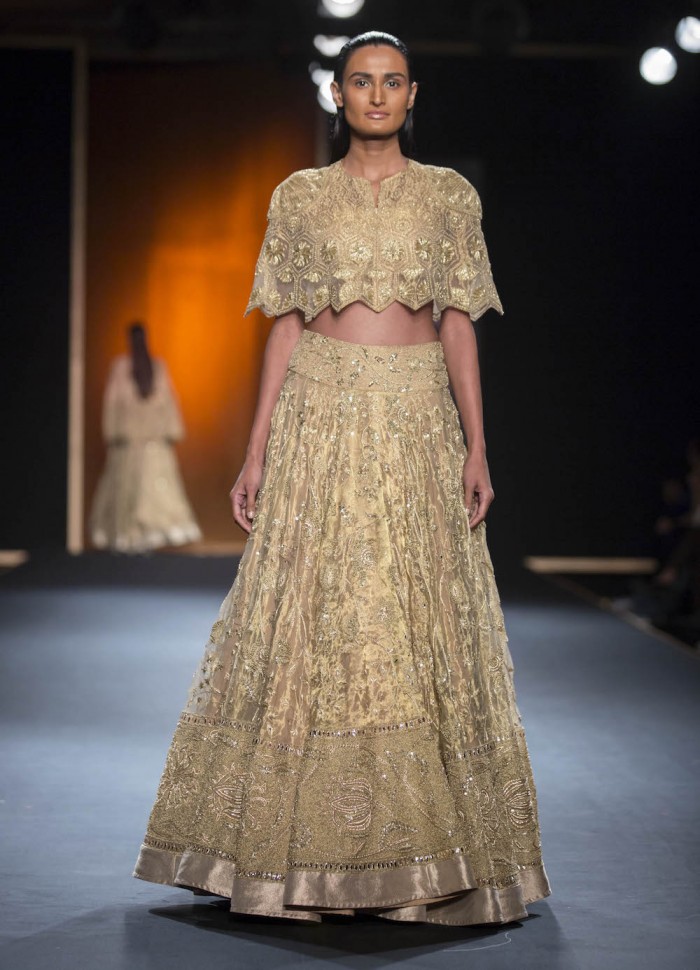 Long Sleeves Lehenga: Long sleeves make the Bridal Lehenga look more stimulating. Not just the sleeves, even long cholis are quite a rage this year. Sew it with a velvet fabric and get a perfect showy appearance without much ado!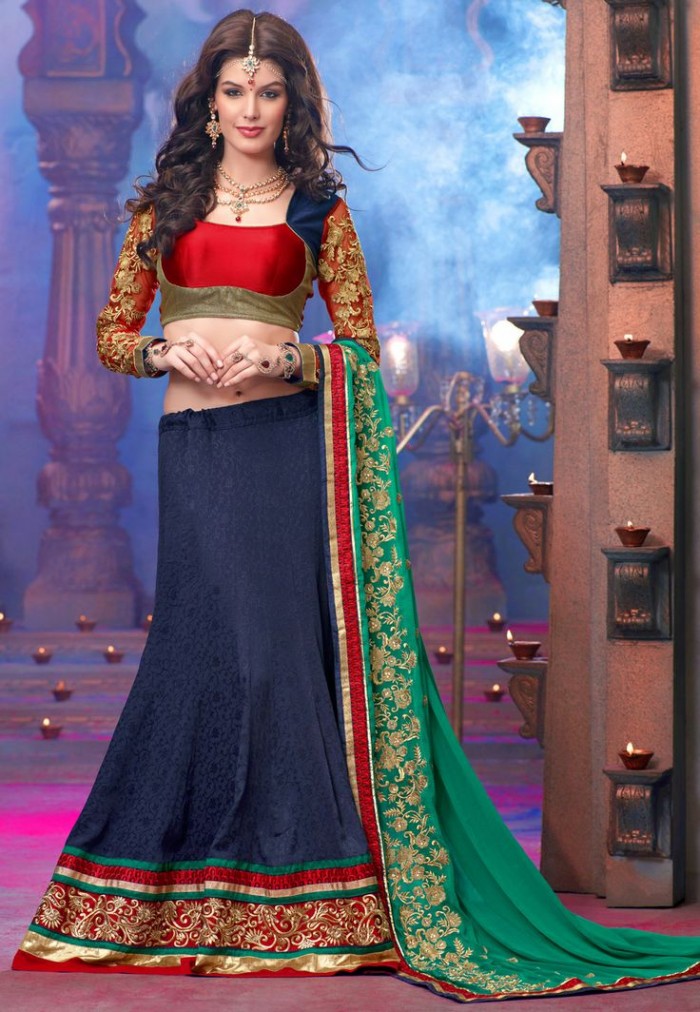 Jacket and Layered Lehenga: Jackets and layers is another trend that's topping the Indian Bridal Lehenga styles 2016. Solid colours combined with prints make these Lehengas with jackets or layers look royal and classy. Play around with colors and fabrics to get a gorgeous effect.
Trail Lehenga: If you're the one who prefers a royal look to a Lehenga, then Lehengas with trail is your choice! A super chart buster for Indian Bridal Lehenga Trends 2016, the trail is a beautiful style. Rich, glamorous and classy, this style is a safe bet!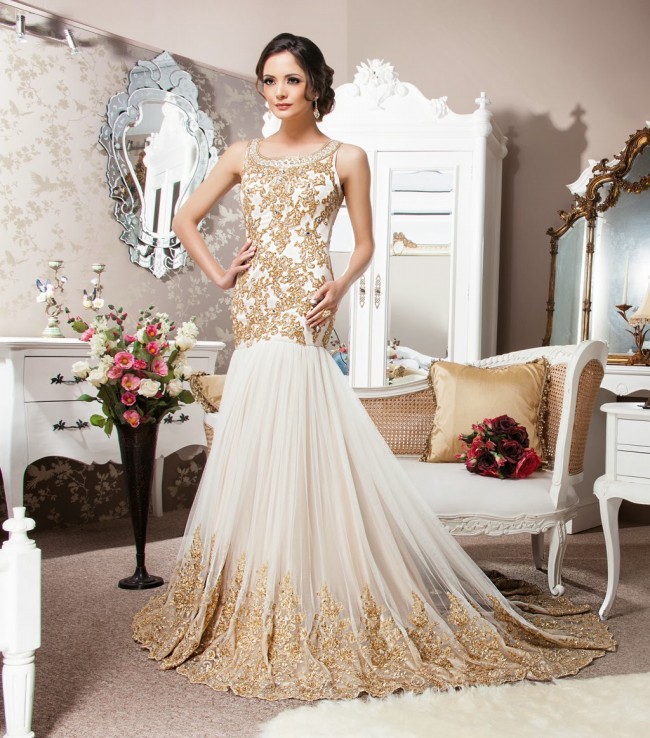 Cropped Choli Lehenga: Cropped cholis with low high hems and empirical waistline is a favourite this season too. Add aari work in gold and accentuate the collars with brocade to look like a show-stopper! In addition to the cropped cholis, cropped jackets with strappy cholis are also making waves on Indian Bridal Lehenga styles 2016.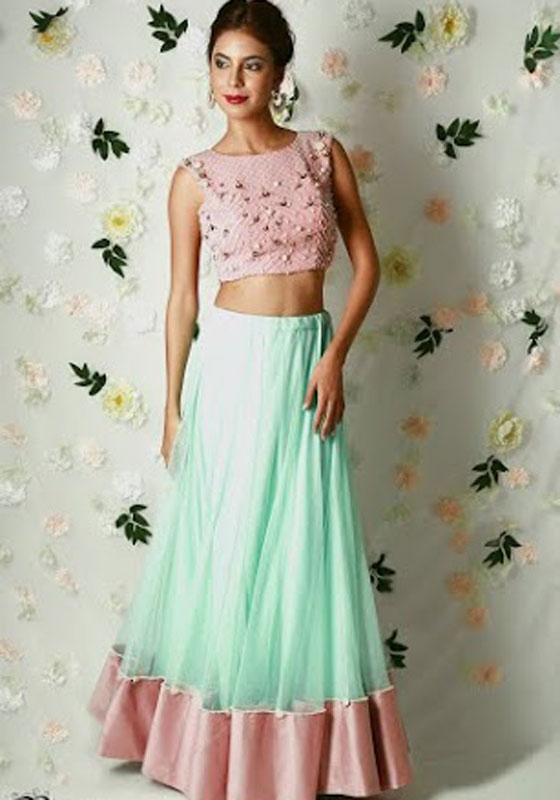 Embellished Lehenga: If you like it glitzy, add semi-precious stones or embellishments to your Lehenga to give it a royal touch. Mirror-worked cholis and a slim-fit Lehenga is a perfect combination to put you into the shoes of a princess!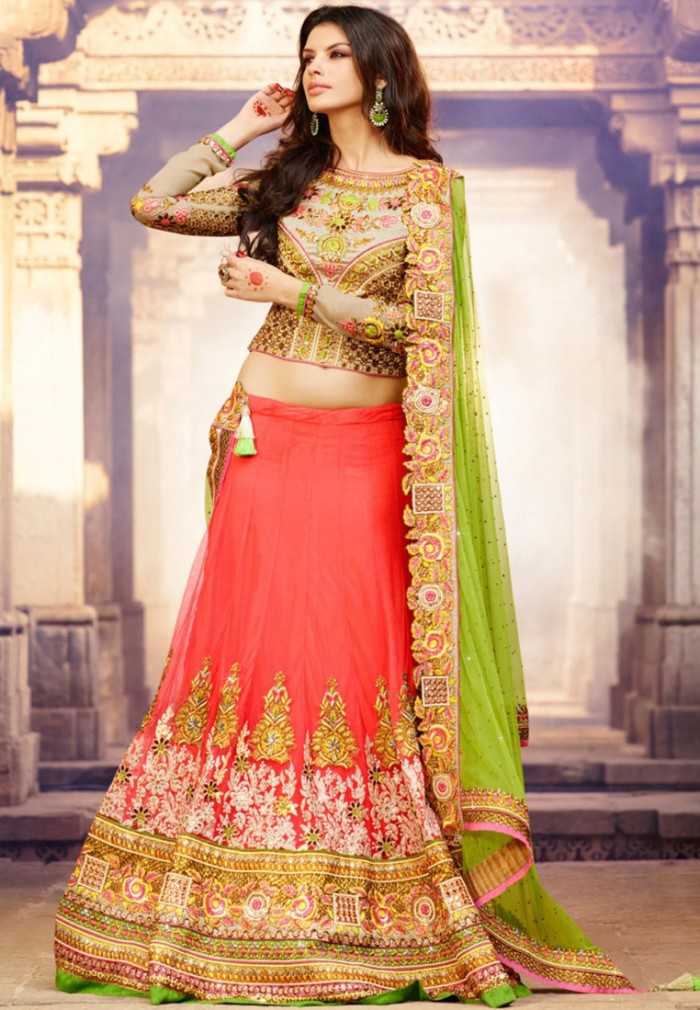 A-line cut Lehenga Design: Classy, yet contemporary, the A-line cut has been topping the Indian Bridal Lehenga charts 2016. Use patches and laces to give it an exclusive look and flaunt the flawless style!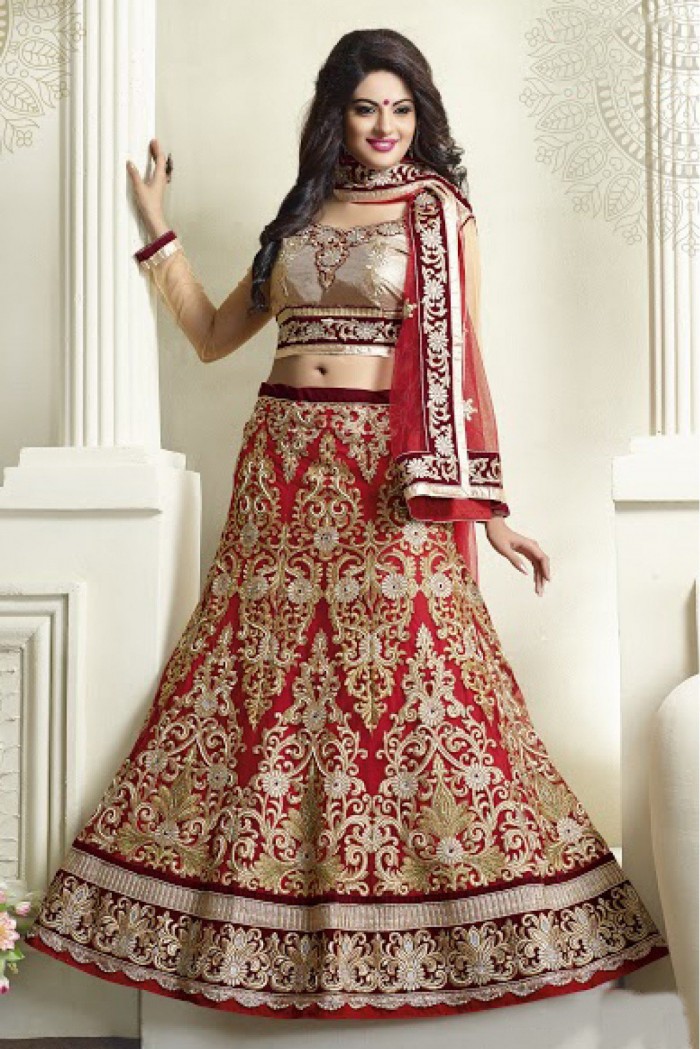 Vintage and Contemporary Lehenga: If you're the kind of bride who prefers vintage with a touch of contemporary, then this is your choice of Lehenga. Floral prints and gorgeous weaves, offers the vintage and contemporary Lehenga a classic fit. Perfect for every bride, the classic combination of vintage with contemporary is an exclusive Indian Bridal Lehenga style 2016.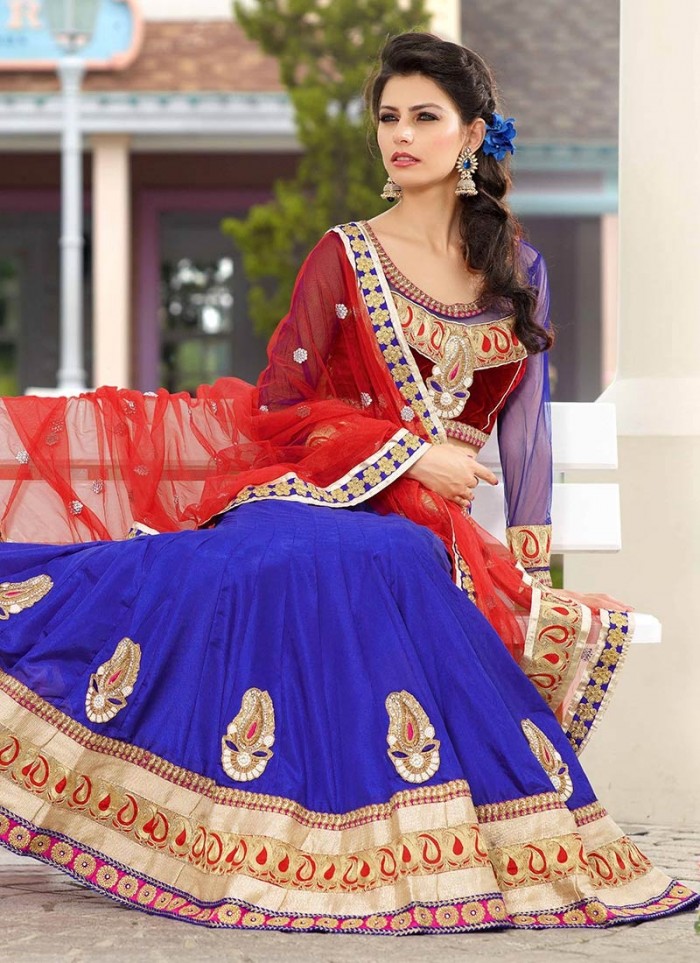 Anarkali Topped Lehenga: As the name suggests, the Anarkali Topped Lehenga is an innovative amalgamation of the Anarkali and the Lehenga. Coupled with heavy embroidery and hand-work, this style is leading to be a show-stopper for Indian Bridal Lehenga styles 2016.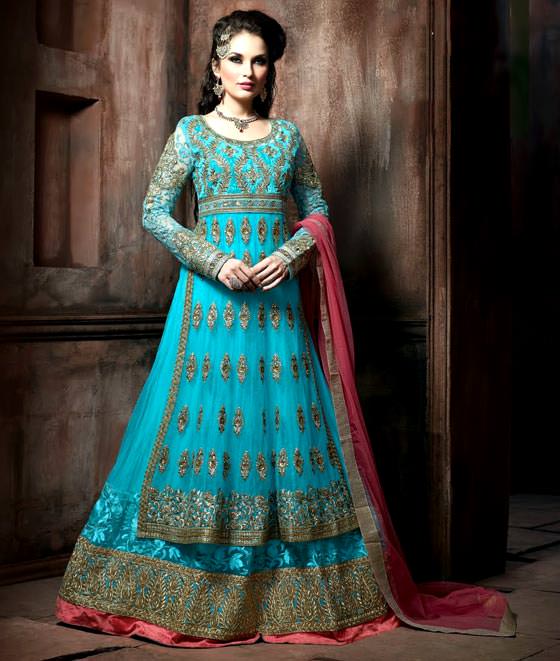 Light Shades Lehenga: Shades of cream and white is picking up as a trend for this season. Perfect for a Summerish Indian wedding, these Lehengas in light hues are made of raw silk and minimal embellishments. A perfect piece to flaunt on your D-day, Light Shades Lehenga is another Indian Bridal Lehenga style 2016 that has become a rage!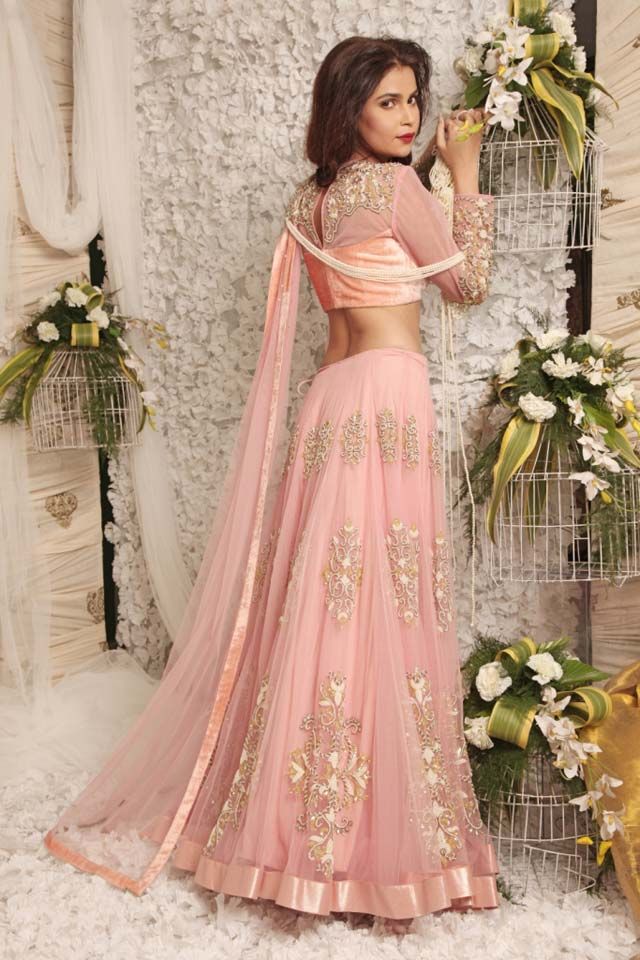 Image Credits:
lehenga.pk
indiabazaaronline.com
thedelhibride.files.wordpress.com
s-media-cache-ak0.pinimg.com
fillyz.com
picsg.files.wordpress.com
admin.indoqueen.com
baggout.tiles.large.s3-ap-southeast-1.amazonaws.com
kollybollyethnics.com
cdn1.ninecolours.com
ethnicsaga.com
shoppers99.com
lehenga.pk
Summary
Article Name
Indian Bridal Lehenga Styles 2016: Sensusous & Trendy Designs
Description
The Indian Bridal Lehenga Styles 2016 is going to be a game changer this season. From classic to contemporary, the styles are varied.
Author
Indian Bridal Lehenga styles 2016: Top 10 Trendsetters
was last modified:
December 25th, 2017
by