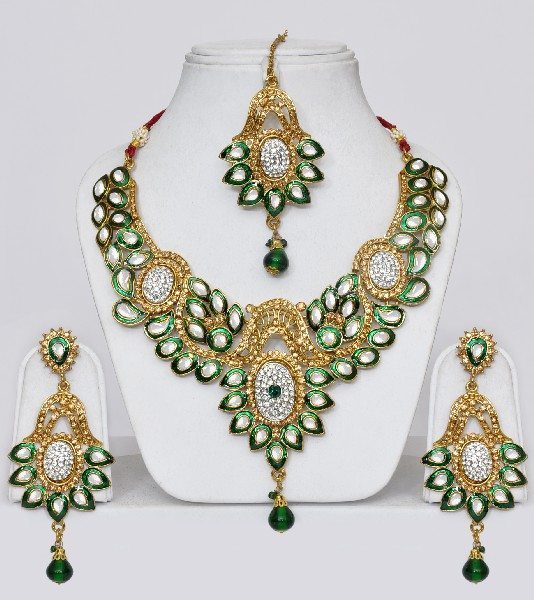 Adorning brides with sophisticated Indian wedding jewelry is one of the most significant traditions over the years. Nobody even thinks of a bride without wearing jewelry as the bride looks incomplete without it. The purpose of wedding jewelry is not just decorating a bride but also practicing the old traditions of the ancestors. Brides are traditionally adorned with necklaces, earrings, armbands, anklets, matha, patti, rings, waist chains, tikkas, nose rings, churras, and brooches. Indian wedding jewelry offers a wide variety of traditional and contemporary designs. Exquisite cuts with modish creations make it more entrancing for the buyers. Moreover, it is available in different price range to cater the needs of all sorts of classes.
Types of Indian wedding jewelry
Appealing Kundan Jewelry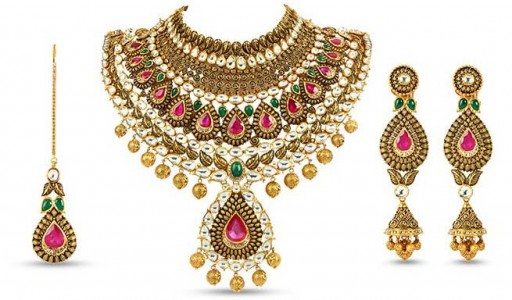 Kundan jewelry exemplifies the great craftsmanship. It is flourished during the Mughal era, where this intricate art began to spread in Gujrat and Rajasthan. It is engraved with Kundan stones with some touch ups of sophisticated meenakari patterns on the back end. Most of the brides prefer wearing kundan sets as they accentuate a real, traditional mystique. Manufacturing of Kundan jewelry is truly complex. It requires skillful handling of precious gems and stones that are complemented with gold. The most popular stones that are used in its production are Agate, Jade, Emerald, Garnet, Topaz, Rock crystal and Amethyst.
Mesmerizing Jadau jewelry
The majesty of Indian bridal jewelry remains incomplete without mentioning Jadauspan patterned jewelry. This fine style is also originated from the great Mughal era and generally known as 'engraved jewelry'. Indian craftsmen are highly praised worldwide due to their ingrained skills of making alluring Jadau designs. They are specially ordered all over from India and other countries because of their unique and lasting impression. They used various precious and semi-precious gems, stones, beads and crystals in gold after a little melting procedure. Jadau jewelry offers a real luxury and grandeur to all of its wearers and it is the best option to get adorned with it!
Traditional Gold jewelry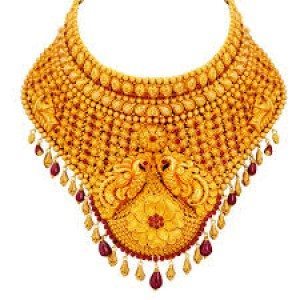 Gold symbolizes wealth and prosperity in India. Traditional gold jewelry designs are the true representations of ancient Indian culture and are available easily everywhere in India. Gold bridal jewelry varies region to region. South Indian brides are heavily decorated with gold necklaces, earrings, rings, matha, patti, anklets, armbands, and churaas. They particularly prefer wearing gold in their weddings. Gold ornaments are usually expensive due to their internationally recognized worth. Some contemporary forms are also very popular in weddings, offering brides with beautiful, delicate patterns.
Classic Temple Jewelry
Temple jewelry was initially used to glorify Hindu God and Goddess. Later on, it has gained a lot of popularity in Indian wedding culture. It is the strong belief of Hinduism that wearing it will give fortuity to the person. In recent times, many designers are working on this classical type of Indian bridal jewelry. They glorify it with precious gems and beads along with pure gold carvings. Gold pendants, bracelets, brooches, and belts are also very highly popular among the women of India.
Captivating Navratna Jewelry
Navratna jewelry is yet another great addition in the list of Indian wedding jewelry. It is specifically embellished with nine colorful stones in a single jewelry piece. Ruby, Emerald, Coral, Sapphire, Pearl, Garnet, Topaz and Cat's eye. This gorgeous Navratna arrangement gives an antique yet stylish look to the brides. Moreover, it is the best option for those who love to wear multiple hued stones at the same time.
Indian wedding jewelry truly represents the ancient Indian wedding rituals in which brides are heavily decorated with beautiful ornaments. It provides with a great charming sensation. It is a great way to showcase bridal beauty in a legitimate manner. Each option has its own significance and beauty hence, opt for an entrancing bridal jewelry design that truly helps to attain a classy mystique!
Summary
Article Name
Indian Wedding Jewelry – A way to Glamorize Yourself
Description
Indian wedding jewelry offers a wide variety of traditional and contemporary designs. Exquisite cuts with modish creations make it more entrancing.
Author
Indian Wedding Jewelry- A Way To Glamorize Yourself
was last modified:
January 2nd, 2018
by